Well here's a good chance to get some great goodies AND help out our neighbours. Check back regularly for updates to this post, listing Makers who are auctioning off their wares to raise funds for the Qld Flood Relief Appeal.
Click on the links below for more information - and bid generously!!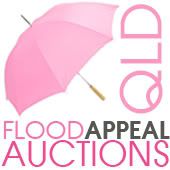 Toni Coward is auctioning off a signed copy of her book "Make it Perfect" (my mother and I recently flicked through this book and it's just great), the book will be accompanied by a few pairs of Toni's gorgeous chill out slippers.

I know there's one or two other Makers out there who are going to do something similar, I'll post them here as I can. If you know of any or want me to link to your blog for appeal efforts just leave a comment!